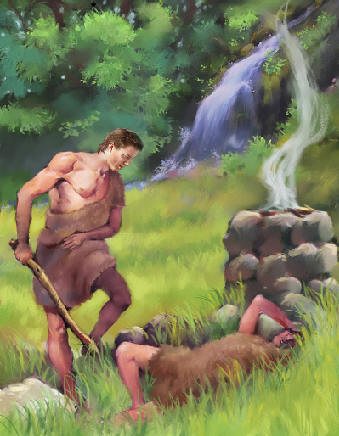 Accordingly to Reed Peck's journal, at what location did Cain kill Abel?
(D) The persecutions of the Saints
As soon as I heard them I was convinced that they taught the truth, and that I had only received a part of the ordinances under the Baptist Church. I also saw and heard the gifts of the spirit manifested by the elders, for they spoke in tongues and interpreted, which tended to strengthen my faith. Brigham Young and myself were constrained, by the Spirit, to bear testimony of the truth, and when we did this, the power of God rested upon us.
On a certain occasion, while going to hear the elders, I passed the house of my brother, Solomon, and enquired of him if he had seen them, he answered he had, and had heard them pray, and prayed with them. I asked what he thought of them, he replied, "They are full of the Holy Ghost religion." I told him I was going to see them, he said, "Go."
Brother Brigham Young afterwards prophesied that my brother Solomon would yet believe the work and embrace it, and would lay hold of me, and wonder why I had come into possession of such great knowledge.
The family of John Young, Sen., of five sons, five daughters, and two sons-in-law, John P. Greene and Joel Sanford, had moved into Mendon a few years previously. They had the same principles in their breasts which I had in mine; truth was what we wanted and would have, and truth we did receive; for the Lord granted us testimony upon testimony of the truth of gospel.
Upon one occasion Father John Young, Brigham Young, Joseph Young and myself gathered together to get some wood for Phinehas H. Young. We were pondering upon those things which had been told us by the elders, and upon the Saints gathering to Zion, and the glory of God shone upon us, and we saw the gathering of the Saints to Zion, and the glory that would rest with them and many more things connected with that great event, such as the sufferings and persecutions which would come upon the people of God, and the calamities and judgments which would come upon the world.
These things caused such great joy to spring up in our bosoms, that we were hardly able to contain ourselves; and we did shout aloud, Hosannah to God and the Lamb.
These things increased our desires to hear. I took my horses and sleigh and started for Pennsylvania; Brigham and Phinehas Young and their wives went along with me. We stayed with the Church there about six days, attended their meetings, heard them speak in tongues, interpret and prophecy, which truly caused us to rejoice and praise the Lord. We returned confirmed in the truth, and bore testimony of that which we seen and heard, to our friends and neighbors.
April 14th, 1832, Brigham Young went forward and was baptized by Eleazer Miller, and the next day, or the day following, Alpheus Gifford came into my shop while I was forming a vessel upon the wheel, and while conversing with me upon the subject of this work, I said, "Brother Alpheus, I am ready to go forward and be baptized." I jumped up, pulled off my apron, washed my hands and started with him with my sleeves rolled up to my shoulders, and went the distance of one mile where he baptized me in a small stream in the woods. After I was baptized I kneeled down and he laid his hands upon my head and confirmed me a member of the Church of Jesus Christ, and said unto me, "In the name of Jesus Christ and by the authority of the holy priesthood receive ye the Holy Ghost," and before I got up off my knees, he wanted to ordain me an elder but I plead with him not to do it, as I felt myself unworthy of such a calling, and such an office.
In about two weeks, my wife, Vilate, was baptized by brother, Joseph Young, with several others in a small stream close to my house, and we numbered about thirty in that Branch, viz.:-
John Young, Sen., and Mary his wife.
Brigham Young and Miriam his wife.
Phinihas H. Young and Clarrissa his wife.
Joseph Young.
Lorenzo D. Young and Persis his wife.
John P. Greene and Rhoda his wife, and their children.
Joel Sanford and Louiza his wife.
William Stilson and Susan his wife.
Fanny Young
Isaac Flummerfeli and his wife with their children.
Ira Bond and his wife Charlotte.
Heber C. Kimball and Vilate his wife.
Rufus Parks.
John Morton and Betsey his wife.
Nathan Tomlinson and his wife.
Israel Barlow, with his mother, brother and sisters.
Under the ordinances of baptism and laying on of hands, I received the Holy Ghost, as the disciples did in ancient days, which was like a consuming fire, and I was clothed in my right mind, although the people called me crazy. I continued in this way for many months, and it seemed as though my flesh would consume away. At the same time the scriptures were unfolded to my mind in such a wonderful manner it appeared to me, at times, as if I had formerly been familiar with them.
"Extract from the Journal of Heber C. Kimball," Times and Seasons 2 (1841); 6 (1845)