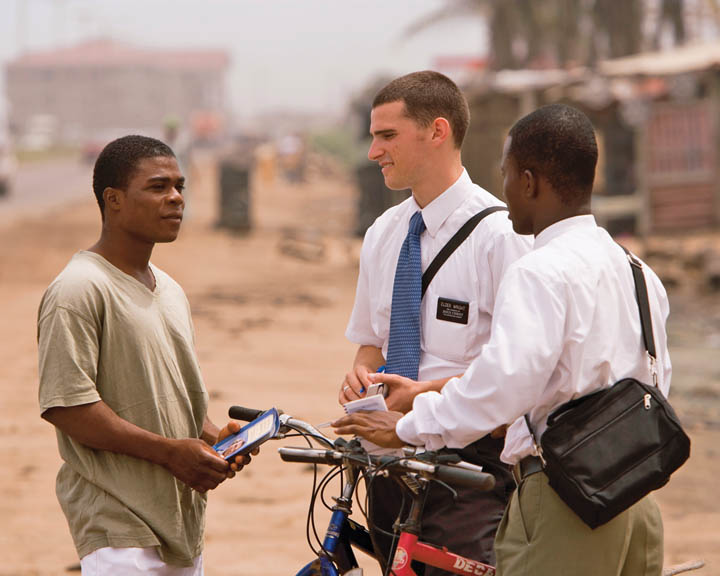 I'm sure you're like me and wonder from time to time if you're making a difference. We desire to do good, but there are times when we come up short, and being human, we tend to remember these situations more so than the good we do accomplish.
Just last week our missionary son in Uruguay emailed. It was an interesting email to me; in fact it ranked up there in the top five that he has sent over the course of 16 months. He had just been transferred and reminisced over the past number of months in his last area. It was a tough area for him, in fact he saw little success if measured by baptisms. He stated, "I have learned that you do not have to baptize to have success." I now realize be had matured and fully understood his purpose as a missionary. I too have had these feelings. If a mission success is measured by baptism, then I rank fairly low on the totem pole. However, I have learned that what we perceive, as opposed to Heavenly Father's outlook on the same situation quite often are not even in the same ball park. For instance, my first area of the mission field found me in Guilford, Maine. Guilford is only a town of about 1,600 residents. A few miles to the east is the smaller town of Sangerville. My companion and I did some work in Sangerville with absolutely no success. At least that's the way I saw it, however Heavenly Father knew differently and 25 years after the fact taught me this lesson.
About 12 years ago I was called to be the elder's quorum president of our ward in Provo, Utah. I had spent a number of years in the primary prior to this calling and so I didn't know all of the elders in the ward and even fewer on the perspective elder list, which in our ward was quite extensive. Obviously, the first order of business was for me and my counselors to visit all we had responsibility for. One of these elders and his wife lived on the banks of the Provo River in an interesting looking log cabin and so I was excited to not only visit the elder and his family, but also see the inside of the cabin.
I happened to drive by one day, and decided to pop in and set the appointment. As I visited with them, his wife made mention of the fact that they were going to leave on vacation soon to her home in Massachusetts. Of course I was interested where she was from as I had served a mission to the New England states 25 years earlier. She told me where her home was and when I told her I was a missionary in the area many years ago, she was interested where I had served. When I told her my first area was Guilford, Maine and that we went to church in Dover-Foxcroft she said that was where she went to church as a little girl. I asked her what her maiden name was and she told me Starbird. That name really rung a bell for me. She asked me if I knew any Starbirds? I told her I wasn't positive, but I think that was the name of the ward mission leader. I went home and pulled out my old mission journals and couldn't believe what I read. The Starbirds were the very first investigator family I visited on my mission. They lived in Sangerville, and as I read I started to remember the situation. I could hardly wait to meet with this elder and his family again. The excitement had nothing to do with the log cabin, but rather her connection to the Starbirds in Sangerville.
The appointed day arrived. When we sat down, immediately I told her that the first family I met in the field were people by the name of Starbird who lived in Sangerville. She told me those were her grandparents. I asked her if they were still alive. She replied that they were. "Are they members of the Church?" I asked. She responded that they never did join. She then said, "Even though they didn't join, let me tell you what did happen." She said that as we were teaching her grandparents that they would pass these teachings along to their son. This son eventually joined the Church, who happened to be her dad.
I learned a lesson that day; one never can judge the good they do.
Again, I really don't have a question for this next story. I just want you to enjoy and learn.
Years ago President Charles A. Callis, then a member of the Quorum of the Twelve, but who previously was president of the Southern States mission for twenty-five years, told me this story. He said that he had a missionary in the southern states who came into get his release at the conclusion of his mission. His mission president said to him, "Have you had a good mission?"
"Well, I haven't had any results from my work. I have wasted my time and my father's money. It's been a waste of time."
Brother Callis said, "Haven't you baptized anyone?"
He said, "I baptized only one person during the two years that I have been here. That was a twelve-year-old boy up in the back hollows of Tennessee."
He went home with a sense of failure. Brother Callis said, "I decided to follow that boy who had been baptized. I wanted to know what became of him. The next time I went up into that area I looked him up. He had put on shoes (he'd never worn shoes before), he'd put on a shirt (he'd never had a shirt before), he was the clerk of the little branch Sunday School.."
Brother Callis said, "I followed him through the years. He became the Sunday School Superintendent, and he eventually became the branch president. He married. He moved off the little tenant farm on which he and his parents before him had lived and got a piece of ground of his own and made it fruitful. He became the district president. He sold that piece of ground in Tennessee and moved to Idaho and bought a farm along the Snake River and prospered there. His children grew. They went on missions. They came home. They had children of their own who went on missions."
Brother Callis continued, "I've just spent a week up in Idaho looking up every member of that family that I could find and talking to them about their missionary service. I discovered that, as the result of the baptism of that one little boy in the back hollows of Tennessee by a missionary who thought he had failed, more thee 1,100 people have come into the Church."
Gordon B. Hinckley, Teachings of Gordon B. Hinckley (Salt Lake City: Deseret Book Company, 1997), 360-61.
In January 1857, the Utah Territorial Legislature created the office of Superintendent of Meteorological Observations. William W. Phelps was the first person appointed to this position, no doubt in part because of his reputation for astronomical knowledge as expressed in his publications [almanacs].
David J. Whittaker, "Alamancs in the New England Heritage of Mormonism," BYU Studies, Fall 1989, 103.