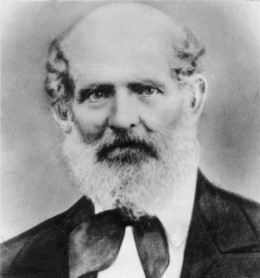 Zebedee Coltrin
While consecrating oil in the Kirtland Temple, what did Zebedee Coltrin see?
B)
Joseph Smith caught up in vision
C)
A heavenly choir of angels
D)
Fire encircling him and the other men participating
A)
The American Legion Building
The American Legion building in Nauvoo and other buildings are constructed of Nauvoo Temple stone.

The Nauvoo Temple site became a quarry for local citizens after the Nauvoo Temple was leveled by a tornado in 1850.
Scot Facer Proctor, Witness of the Light (Salt Lake City: Deseret Book Company, 1991), 186.