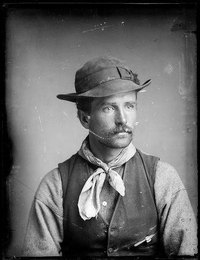 George Edward Anderson
George Edward Anderson was called on a three year mission to England in 1907. He was actually gone for seven years. What was he doing that created the four year delay?
A)
Developing the first set of standardized discussions for general missionary use the world over.
B)
Putting together the first LDS historic pictorial book.
C)
Called to be Russia's first Mission President
D)
Developing the first cross reference system interlacing the Bible with other Latter-day scripture.
(B)

He did not believe in angels
The Salt Lake Temple is the first temple to be graced with an angel identified as Moroni. Cyrus Dallin was solicited by President Woodruff to design a statue that could be placed on the 210-foot central east spire of the temple. What is interesting in this situation is that Cyrus was not a member of the Church and at first refused the offer saying he "didn't believe in angels." Undaunted, President Woodruff told Cyrus before he finalized his decision that he consult with his L.D.S mother. Dallin's mother was able to convince him to do the work by stating, "Why do you say that? [not believe in angels] You call me your 'angel mother.' " She encouraged him to study LDS scripture for inspiration. This study led to the formation of a neoclassical angel in robe and cap, standing upright with a trumpet in hand. The original 40-inch plaster model was completed by 4 October 1891 and exhibited at the Salt Lake Fair. A full-size model (12 feet 5 inches) was sent to Salem, Ohio, where the statue was hammered out of copper and covered with 22-karat gold leaf.
J. Michael Hunter, "I Saw Another Angel Fly." Ensign, Jan. 2000, 30.