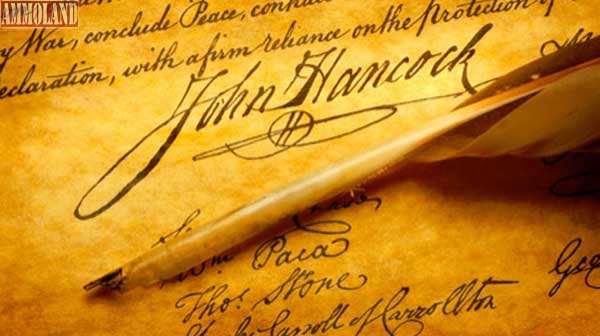 John Hancock, hands down, has by far the most unique signature on the Declaration of Independence. His signature is large, flowing and definitely sides on flamboyant. Little did Mr. Hancock understand when he attached his "John Hancock" to the Declaration that a future relation, in the form of Levi Hancock, would also side on unique when he attached his signature to what?
a.
The Book of Commandments
c.
The Doctrine and Covenants
d.
The Family, A Proclamation to the World
As we arose and commenced our march on the morning of the 3d of November, Joseph Smith spoke to me [Parley P. Pratt] and the other prisoners, in a low, but cheerful and confidential tone; said he: "Be of good cheer, brethren; the word of the Lord came to me last night that our lives should be given us, and that whatever we may suffer during this captivity, not one of our lives should be taken."
The following from Lucy Mack Smith: "For some time nothing was heard in the house but sighs and groans, as we thought we had seen Joseph and Hyrum for the last time. But in the midst of my grief, I found consolation that surpassed all earthly comfort. I was filled with the Spirit of God and received the following by the gift of prophecy: 'Let your heart be comforted concerning your children, for they shall not harm a hair of their heads, and before four years, Joseph Shall speak before the judges and great men of the land and his voice shall be heard in their councils. And five years from this time he will have power over all his enemies [Although Lucy may not have understood this last part of the spiritual confirmation, the spirit was foreshadowing the death of the Prophet].'"
Autobiography of Parley P. Pratt, pg. 239, 242.