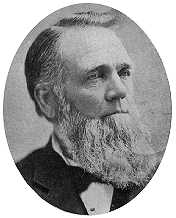 Elder Franklin D. Richards
Franklin D. Richards holds the distinction of serving the longest in the Quorum of the Twelve Apostles without actually becoming the president of the Church. How long did he serve?
At the outbreak of the Civil War, efforts were being put forth to induce Utah to secede from the Union. Two southern members of Congress approached Representative Hooper [William H.] reminding him that Utah had been mistreated by the Government and that this was an opportune time to rise in rebellion. Mr. Hopper replied, "Utah indeed had difficulties with the government, but we calculate that they will be righted in the government, or we will endure them."
Chronicles of Courage,
comp. by Lesson Committee (Salt Lake City: Daughters of Utah Pioneers, 1992), 3:264.