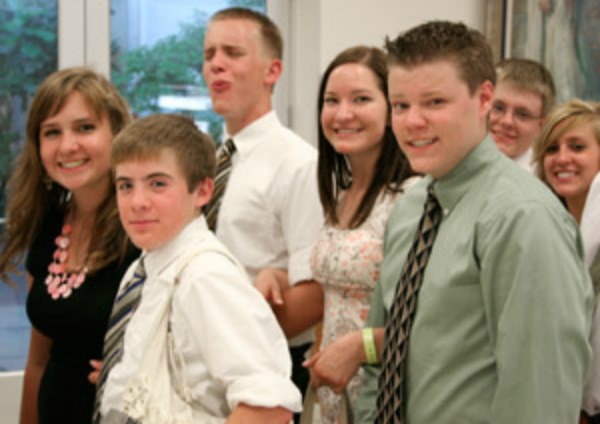 My daughter told me of a recent Fast and Testimony meeting she attended in her Ward. She said that a very excited soon-to-be-eight-year old stood up and bore his testimony that he couldn't wait for his "bathtism" and that he was inviting the entire ward to his "bathtism," and if he appeared nervous, it was because so many people were coming to his "bathtism." The next day at work, my counterpart was telling me that at his Fast and Testimony meeting the previous day, a newly baptized eight-year old boy stood and told about his baptism. He said at first he didn't want to go into the water because he didn't want to get his underwear wet. From the mouth of babes. The young people have a way of putting a smile on our faces. Accordingly to Parley P. Pratt, during the very earliest meetings, what were the youth doing?
b.
Performing primary presentations
d.
Giving 2 ½ minute talks
Salt Lake's first actual theater was the Bowring Theater located on the bottom floor of Henry Bowring's home built in 1859 at 344 East First South Street. It consisted of a stage at one end and 100 bench-seats for the audience. The Mechanics Dramatic Association was formed by Henry Bowring and Phil Margetts, who managed the theater, and heavy three-act dramas and rollicking farces were put on. The theater was often jammed with people. At the comedy Luke the Laborer, Henry Bowring and Phil Margetts were surprised to see President Young and Heber C. Kimball in the audience. The next day Mr. Bowring took President Young ninety tickets so that Presidents Young and Kimball might bring their families to a special performance of The Honeymoon. President Young was so impressed that he determined Salt Lake should have a fine theater to accommodate the whole community. Consequently, the Salt Lake Theater was built on First South and State Street, and the first paid performance opened with Pride of the Market on March 8, 1862, a gala event patronized by settlers from miles around. It became popular because of the high quality of plays performed on its stage and was well patronized for many years. Many famous stars performed on its memorable stage. It was torn down in 1928.
Chronicles of Courage,
Daughters of Utah Pioneers (Salt Lake City: Lesson Committee, 1993), V4:86.