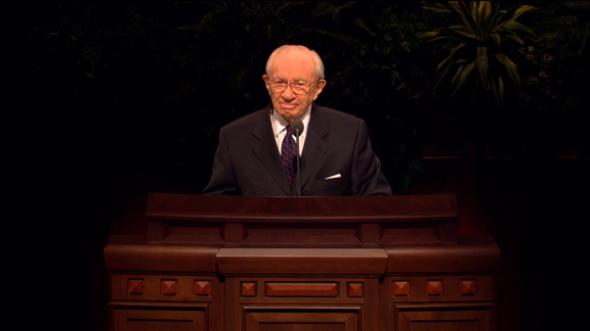 President Gordon B. Hinckley
The fall general conference of 1983 saw another Mormon first. It was the first time a sport score was announced over the pulpit during the priesthood session of conference. It was Elder Hinckley that made the announcement. What was the sporting event that was considered this important?
The following about Nauvoo Saint, John Woolf II: Young John's father had worked in silks and satins for a large firm in New York City and was also an excellent shoemaker. This trade, together with his farming, enabled him to live comfortably and save money. On two different occasions he had the privilege of lending money to the Prophet. Just prior to his last imprisonment and martyrdom, the Prophet went to the senior Woolf and borrowed Five hundred dollars. When the Prophet asked what security the lender wanted, he was told, "None. Your word, Brother Joseph, is all the security I ask."
The Prophet then turned to Willard Richards, who had accompanied him there, and said, "Brother Richards, if I do not live to pay Brother Woolf back, I want you to see that he gets his money." The Prophet had given Brother Woolf a blessing called "The Seal of the Prophets." In it he was promised that neither he nor his children should ever want for bread.
John A. felt that the blessing given him by the Prophet Joseph had been literally fulfilled, as had also been the blessing given his father by the Prophet Joseph that he nor his children should ever want for bread, and that he had filled his mission on earth. These and other blessings comforted him.
Chronicles of Courage,
comp. by Lesson Committee (Salt Lake City: Daughters of Utah Pioneers, 1992), 3:371, 377.