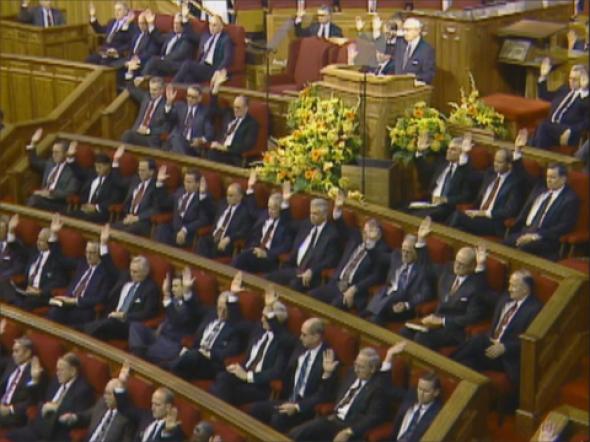 Who is the only member called to the Quorum of the Twelve in the modern Church that happened to be absent at the time he was sustained?
(D)

Milked into his pipe and drank at the same time.
On his [Dan W. Jones] return trip to Devils Gate to get his wagon, he stopped at South Pass. Stephen Markham, who was in charge of the Y.X. post [Young Express] asked him if he would drive nine milk cows to the fort at Devil's Gate so that the men stationed there could have fresh milk. Driving the cows to the fort, Dan records: "As I could not carry provisions very well, and having money, it was supposed that I could buy bread at least, there were trains of California emigrants continually on the road. Cups were scarce, so when I started out I had nothing but my blankets and gun. I happened to have a new clay pipe in my pocket. After asking several persons to sell me a cup and some bread and being refused, concluded to see if I could not get through with what I had. The cows all gave plenty of milk and were gently. I necessarily had to milk them to keep their udders from spoiling. So when I would get a cow all milked but the strippings [cream] I would put the stem of the pipe into my mouth and milk into the bowl and draw the milk through. This was about the same as sucking "mint julep" with a straw. I enjoyed it immensely, being fond of new milk."
Chronicles of Courage,
comp. by Lesson Committee (Salt Lake City: Daughters of Utah Pioneers, 1992), 3:302.