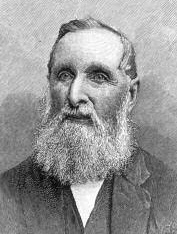 Henry Bigler
Mormon Battalion member, Henry Bigler states that when the Battalion entered San Diego they came across a man begging for food, but also forgiveness. Why would the beggar be pleading for forgiveness?
a.
He was a spy for the Mexican Government
b.
He was a mob member at Haun's Mill
c.
He was responsible for the stampeding wild bulls that the Battalion had to fight
d.
He was at Carthage the day the Prophet was murdered
b. and c.

A 1st edition Hawaiian Book of Mormon and the 1835 LDS hymn book
The rarest edition of the Book of Mormon, according to professional book collectors, is a first edition in Hawaiian. The rarest LDS book is a first edition (1835) hymn book, the collection of hymns selected by Emma Smith. Only eight copies are known to exist.
Skousen, Paul, The Skousen Book of Mormon World Records, (Springville, Utah: Cedar Fort, Inc., 2004), 359.