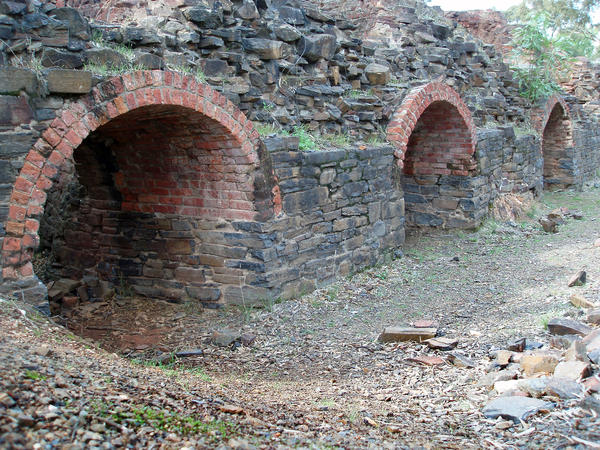 Brick Kiln
In 1887, James William Nielsen went into a brick making venture with his dad and uncle. During the process they ran out of wood for the kiln. What did they dismantle and burn to save the bricks?
1.
(C) A strange man giving news that the rescue party was just over the next hill
The following from the journal of Patience Loader Rozsa Archer who was a member of the ill fated Martin Handcart Company:
I will say we traveled on all day in the snow but the weather was fine and in the middle of the day the sun was quite warm. Sometime in the afternoon a strange man appeared to me as we was resting as we got up the hill. He came and looked in my face. He said is you Patience. I said yes. He said again I thought it was you. Travel on. There is help for you. You will come to a good place. There is plenty. With this he was gone. He disappeared. I looked but never saw where he went. This seemed very strange to me. I took this as someone sent to encourage us and give us strength.
Kenneth W. Godfrey, Audrey M. Godfrey, and Jill Mulvay Derr, Women's Voices: An Untold History of The Latter-day Saints 1830-1900 (Salt Lake City: Deseret Book Company, 1982), 231.
2.
(B) We have all heard the story of the four young men who carried the members of the Martin Handcart Company across the ice filled Sweet Water River. Patience Loader sheds some more light on this story. The following from her journal:
We traveled on for some few miles. Then we came to the Sweet Water. There we had to cross. We thought we would have to wade the water as the cattle had been crossing with the wagons with the tents and what little flour we had and had broken the ice so we could not go over on the ice. But there was three brave men [actually there were four] there in the water packing the women and children over on their backs. Names William Kimball, Ephraim Hanks, and I think the other was James Furgeson [Either this is another incident or else she recorded the names wrong. The four young men were George W. Grant, C. A. Huntington, David P. Kimball, and Stephen W. Taylor]. Those poor brethren was in the water nearly all day. We wanted to thank them but they would not listen to us. My dear Mother felt in her heart to bless them for their kindness. She said God bless you for taking me over this water and in such an awful rough way. They said oh d--- that I don't want any of that. You are welcome. We have come to help you. Mother turned to me saying what do think of that man. He is a rough fellow. I told her that is Brother William Kimball. I am told they are all good men but I daresay that they are all rather rough in their manners. But we found that they all had kind good hearts. This poor Brother Kimball stayed so long in the water that he had to be taken out and packed to camp and he was a long time before he recovered as he was chilled through and in after life he was always afflicted with rheumatism.
Kenneth W. Godfrey, Audrey M. Godfrey, and Jill Mulvay Derr, Women's Voices: An Untold History of The Latter-day Saints 1830-1900 (Salt Lake City: Deseret Book Company, 1982), 236.
Mary Powell Sabin, a young twelve-year old Welsh girl traveling in the Ellsworth hand-cart company states that at the celebration of their companies arrival into Salt Lake City that the first food they were offered was watermelons. Brigham Young instructed the emigrants to just eat the pink and not to go into the green of the melon.
David Roberts, Devils Gate-Brigham Young and the The Great Mormon Handcart Tradegdy (New York City: Simon and Schuster, 2008), 113.
4.
(B) The following from Sarah James, a member of the Willie Handcart Company:
Father told us one night that the flour was gone. . . . Father was white and drawn. I knew that mother was worried about him, for he was getting weaker all the time and seemed to feel that there was no use in all the struggle." Captain Willie announced one morning that all the animals in the company would be killed for fresh meat. "We were so hungry that we didn't stop to think what it would do for our wagons. How good the soup tasted made from the bones of those cows, although there wasn't any fat on them. The hides we used to roast after taking all the hair off of them. I even decided to cook the tatters of my shoes and make soup of them. I brought a smile to my father's sad face when I made the suggestion, but mother was a bit impatient with me and told me that I'd have to eat the muddy things myself."
Heidi Swinton and Lee Groberg, SweetWater Rescue: The Willie and Martin Handcart Story (American Fork, Utah: Covenant Communications Inc., 2006), 71.
Again, the following story gives us some indication of the hunger suffered by the young during the fall of 1856:
John Bond, a twelve-year-old in the Hodgett Wagon Train with his family, latter recorded, "Day after day passes and still no tidings of help coming from westward. The bugle is sounded again . . . to call all the Saints together for prayers to ask the infinite Father to bring food, medicines, and other things necessary for the sick and needy." Bond had seen a woman cooking a pot of dumplings before evening prayer and then watched her hide them. He did not go to prayer. "I stood back and looked for the dumplings, found them, and being so hungry I could not resist the temptation, sat down and ate them all."
Heidi Swinton and Lee Groberg, SweetWater Rescue: The Willie and Martin Handcart Story (American Fork, Utah: Covenant Communications Inc., 2006), 78.
5.
(A) As they came to rivers, the captain would go through on horseback, then they would all hold hands and pass through to the other side. No one could ride except the sick and the small children.
Della Henderson Holladay, "Pioneers of Faith, Courage, and Endurance." Chronicles of Courage: Daughters of Utah Pioneers (Salt Lake City: Utah Printing Company, 1991), 2:75
My brother Levi was born the 28th of February--8 1/2 months after my father left for the Battalion. We had a cow that freshened this spring, but she was up to the bottoms, 40 miles away. We tried to get some of the brethren to bring her down, and they said they would. But mother dreamed that Bill Hickman got the cow and calf, and she wished me to see if I could get a horse and saddle. I dreamed, however, that thieves got away with the horse and saddle, so I took my gun, and mother made me three skillets of corn dodger, and the next morning I started out on foot. Mother also gave me three matches so that I could have a fire when I camped. Our bedding being scarce, I did not take a quilt, even though the season wasn't very warm. The first day was so muddy that I got only about 20 miles; but I came to a grove of trees--mostly slippery elm and basswood. I soon had a good fire for the wood was plentiful. I had my knife along, and I got some elmbark which seemed to go well with my corn bread. I made me a bed with some dry leaves at the foot of a clump of trees, and was soon in a sound sleep. But, a dismal noise awakened me! I grabbed my gun and corn dodger, and up a tree I went, for wolves were in force! I threw some wood on the fire so that the blaze would keep back those "clamoring varmits", as David Crocket would say. Oh, how the cold wind did pierce me! By daylight the wolves were gone, and I left my perch. I soon got warm by the good fire, and I tried to do some praying--for the music in the wolves choir seemed to introduce in me a desire to feel a little religious. I went on and inquired for our cow, but no one seemed to know anything about her. I soon got my eye on her, and started back that evening. I got to a nice wood where I built a fire, and tied the cow with a rope I had found. The calf had been considerable trouble, so I tied it to the cow! Oh, but the wolves were so thick! I had the calf tied to the cow and the cow tied to a tree--then I made a fire close to the cow, then scraped some leaves together for my bed. I got a great pile of wood so I could keep fire through the night. Then I saw a rabbit run up the hollow tree where I intended to lay my head; I reached it with my arm and soon had it skinned and cooked. I had a supper fit for a king with the rabbit, some of the dodger I had left, and some milk I milked into my mouth! The third day of my trip, I arose early and ate the rest of my rabbit and dodger. I found the cow had eaten the pile of straw I carried on my head, which was supposed to be my hat, so I went forth bare headed. However, the day was cloudy, so I didn't suffer with heat. Although the snow was nearly gone, except in the gulches, there was much mud; but I made it to the Perkins settlement, where I and my "companions" fell into good hands. The goodly company seemed to suppose me to be somewhat of a hero. I had a good supper and slept soundly, never once thinking of the wolf choir. The next morning I ate a hearty breakfast, and my kind friends sent me forth with a good lunch. At noon I shot a large grey wolf that got too close, and while going down the Mosquite, a panther to put up a sneak job on me and my company--however, I saw it's movements as it crouched near the path. I put a ball between its eyes and it quivered without making much of a spring. I then began to cast about for another place to sleep, supposing it would be late before I got the thing skinned; when all at once, Jack Reddin rode up on horseback. He saw the situation and gave me $2.50 for the panther, so I traveled on towards home, reaching it about 12 o'clock midnight, much to the joy of my mother who was waiting and worrying for me. I can assure all, I rested sweetly that night!
Autobiography of Mosiah Hancock, Typescript, BYU-S; htpp://www.boap.org/