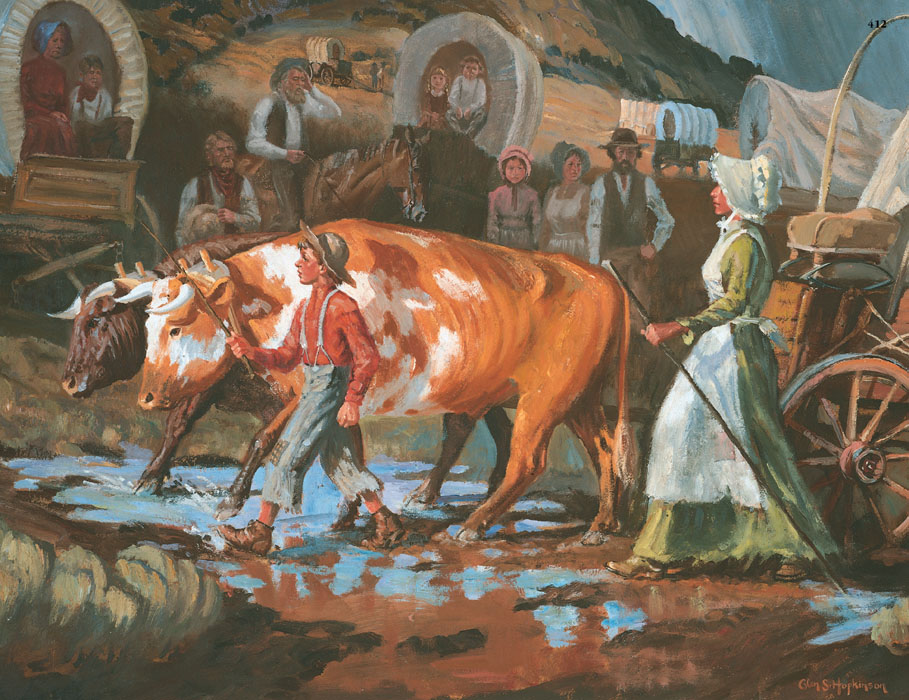 Why did pioneer Olive Cheney Aldous want her father to make the oxen trot like horses?
a.
They had finally arrived in the Salt Lake Valley and she didn't want to miss the Pioneer Day celebration
b.
Her family was to be in the Pioneer Day parade and she wanted them to look their best
c.
She didn't want to be late for the parade
d.
She wanted her dad to win the oxen pulling race
Pioneer Day was first celebrated on 24 July 1849, just two years after the vanguard pioneer company entered the Salt Lake Valley. Brigham Young led a small group from his home to the bowery on the Temple Block, where nearly everyone from Salt Lake City had gathered earlier in the day. Following a devotional meeting, the Saints closed the activities of the day with a feast of thanksgiving.
Twenty-three-year-old Albert King Thurber, "bitten by the California gold bug," was on his way west when his group of forty-niners stopped in Salt Lake City just before the first Pioneer Day celebration. He notes: "on the 24th of July I joined in the celebration and thought that as pretty a scene as I had ever beheld was the 24 young men and women when they came into the Bowery singing 'We are the True Born Sons of Zion.' I was much pleased with the whole proceedings and had found a religious society who believed in natural enjoyment."
Albert joined the Church shortly thereafter, letting his fellow adventurers proceed on their journey for gold while he remained with the Saints in Zion.
Holzapfel, Richard Neitzel, Their Faces Toward Zion (Salt Lake City: Bookcraft, 1996), 198.