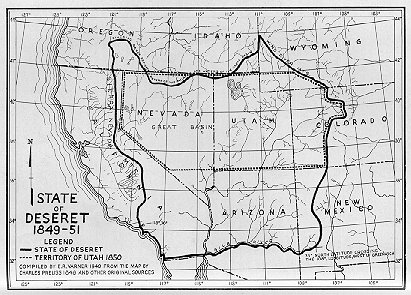 Brigham Young envisioned the State of Deseret whose borders would extend to the ocean at San Diego. Why did Brigham Young desire a sea port to be part of this state?
a.
Items in the stores would be cheaper
b.
He wanted to form a Mormon navy
c.
He wanted to take advantage of tourism
d.
He could have the Saints arrive from foreign lands unmolested
Lyman Wight: He was ordained to the office of a High Priest by Joseph Smith, at a conference held at Kirtland, in June, 1831, by revelation, and soon after went to Cincinnati on a mission to preach the gospel. On arriving in that city he called at a hotel and engaged his board for several weeks. The landlord asked him what his business was. He replied he was a preacher of the gospel after the order of Melchizedek. This created so much curiosity that they wished to have him preach. He told them that was his business, and if they would open the court house he would do so willingly. They obtained the house, and he delivered a series of lectures and built up a branch of the Church, and baptized upwards of one hundred. The family of Higbees were among the first baptized; they were fishermen, and Wight would fish with them through the day and preach at night. One evening he went from the fish net to the court house, and stood on the top of a stove barefooted with his trousers rolled up to his knees, and his shirt sleeves up to his elbows, and preached two hours. Some of the people remarked, "He preaches the truth, though he does not look much like a preacher."
Andrew Jenson, LDS Biographical Encyclopedia (Salt Lake City: Publishers Press, 1901), 93-94.