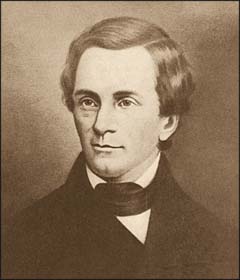 Governor Thomas Ford
I have lived long enough to realize that there is more truth in this simple statement than meets the eye. Governor Ford of Illinois promised Joseph Smith protection, and shortly after the death of Joseph Smith, learned this lesson first hand himself. In fact, President John Taylor prophesied what about the Governor?
a.
That he would die the same death as Joseph Smith
b.
That the flesh would wither from his bones and that he would die a pauper
c.
That he would be hunted from town to town and from city to city
d.
That he would never know peace again
(C) They were accused of letting Joseph go and tortured
The people of Gallatin were livid after they learned of the prisoners escape. They charged Sheriff William Morgan and ex-Sheriff Bowman with complicity in the escape and "rode the sheriff on a rail," and dragged the ex-sheriff "by his hair" through the town square.
History of Davies County
[Kansas City, 1882]: 205-6, 247, 249.