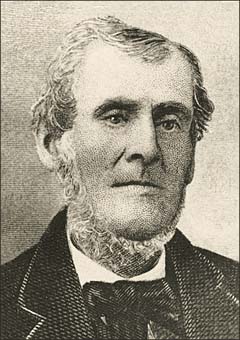 Martin Harris
True or False; Did Martin Harris leave the Church, join the Strangites, and serve a mission in Great Britain for his new church?
(C) An army totaling thousands of men
"They came on the direction of our city; which produced some little stir in the place, and in a few minutes there was about two hundred men both old and young, mustered to the public square in the city; the rest of the men living absent. We were immediately marched to the south boundary line of the city in the direction of the mob to defend our wives and children and property from destruction. When we arrived to our post the mob was coming down on to a low piece of ground on the boarders of Goose Creek where there was some scattering timber that took them out of our sight but some of them climbed up in to the trees and looked over into the city and swore that they saw an army of men that would number thousands. This we learned from our brethren that was prisoner then in their camp; the sight of this great army brought terror to their camp which caused them to halt for a little time.
Autobiography of William Draper, Typescript, Harold B. Lee Library, Brigham Young University;
http://www.boap.org/