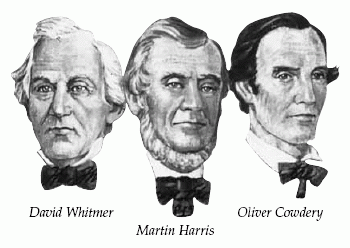 It was the Lord that instructed the Three Witnesses of the Book of Mormon to call the original Quorum of the Twelve Apostles. When did the Three Witnesses first receive this instruction?
The American Party was an anti-Mormon organization founded in 1904 by a group of Utah citizens including Frank S. Cannon and Thomas Kearns (both of whom had served in the U.S. Senate). The party ran several candidates in the 1904 Utah State election but was soundly defeated in a tri-party race. Cannon and Kearns then devoted all their energies to the 1905 Salt Lake City municipal election. In that contest the American Party candidates won the race for mayor and a majority of the seats on the city council. The party dominated Salt Lake City government from 1905 to 1911. It elected Ezra Thompson as mayor in 1905. He was followed by John S. Bransford for the next two terms. The American Party was finally swept out of office in 1911 when a nonpartisan, commission form of government was brought into being.
Arnold K. Garr, Donald Q. Cannon, and Richard O. Cowan, Encyclopedia of Latter-day Saint History (Salt Lake City: Deseret Book Company, 2000), 23.