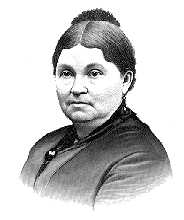 Clara Decker Young
When Clara Decker Young, wife of President Young, saw the Salt Lake Valley for the first time she said what?
A)
"I have walked 1200 miles and I'm willing to walk 1000 more miles rather than stay here"
B)
"This most definitely is the place"
C)
"I think I've died and gone to heaven"
D)

"Leave it to Brigham to stop here"
The following stories will indicate that history is not always accurate:
It is said that Martin Harris joined the Strangites and preached against the Church while on a mission to Great Britain as the following story suggests:
History tells us that shortly after the death of the Prophet, Martin Harris came under the influence of James J. Strang, an apostate from the Church who claimed to be the true successor to Joseph Smith. Under the influence of this man, Martin Harris went to England as a missionary for the Strangites in that country, but he soon saw that his task was hopeless and he left without accomplishing the object of his visit.
Preston Nibley, comp. The Witnesses of the Book of Mormon, (Salt Lake City: Deseret Book Co., 1958).
The following gives insight of why this mission failed:
Another blow at Brighamism was the appointment of a mission to raid the rich proselyting field of industrial England. Moses Smith, Leicester Brooks, Hazen Aldrich, and Martin Harris, the last of whom had financed and been one of the three witnesses of Joseph Smith's Book of Mormon, were delegated to leave in the fall for the British Isles . . . .
The English mission, on which Strange had counted for reinforcements in money and souls, ended in disaster. Without the stalwart Moses Smith, who was detained at Voree to help Strange fight the schisms and apostasies which threatened to shatter the walls of Zion, the mission lacked a dependable leader. Moreover, the other two members of the mission, Martin Harris, and Leicester Brooks, had been preceded to England by Orson Hyde and John Taylor, the Brighamite Apostles and scourges of Strangism, who had prepared a hot reception for them.
The landing of Harris and Brooks at Liverpool was the signal for Hyde and Taylor to let loose a torrent of scorn. Unfortunately, both of the Strangite missionaries were vulnerable to impeachments of their honesty. The Brighamites lost no time in publishing the fact that Martin Harris had once been a follower of Anne Lee in Shakerism as well as a recidivist Mormon. "Any one can see that he must have been a wicked man, and no wonder that a man without revelation should join Anne Lee, Strang, or any other imposition or strong delusion, having rejected the truth.
O. W. Riegal, Crown of Glory — A life of James J. Strang (New Haven: Yale University Press, 1935), pp. 85, 102, 103, cit. Wayne Gunnell, "Martin Harris," p. 53.
Here is some additional insight into Martin Harris' failed mission:
We stop the press to say that our letters by this morning's mail (October 31) bring cheering accounts from our elders in various parts. They are baptizing in almost all directions. We also learn, from Elder Wheelock's letter of Birmingham, that Martin Harris and his escort have paid them a visit. He introduced himself to their conference meeting and wished to speak, but on being politely informed by Elder Banks that the season of the year had come when Martin sought a more genial climate than England, he had better follow. On being rejected by the united voice of the conference, he went out into the street and began to proclaim the corruption of the Twelve; but here the officers of government honored him with their presence—two policemen came and very gently took hold of each arm and led Martin away to the Lock-up. We would insert Brother Wheelock's letter entire if we had room. Elder Wheelock will remember that evil men, like Martin Harris, out of the evil treasure of their hearts shall bring forth evil things.
Just as our paper was going to press, we learned that Martin Harris, about whom we had written in another article, had landed in Liverpool, and being afraid or ashamed of his profession as a Strangite, and we presume both, for we are confident we should be, he tells some of our brethren on whom he called, that he was of the same profession with themselves—that he had just come from America and wished to get acquainted with the Saints. But there was a strangeness about him, and about one or two who came with him, that gave them plainly to see that the frankness and honest simplicity of true hearted brethren were not with them. A lying deceptive spirit attends them, and has from the beginning. They said they were of the same profession with our brethren, when they knew they lied. If they were of our profession, why not call at our office and get their papers endorsed? Because they know that they are of their father, the devil, who was a liar from the beginning, and abode not in the truth. The very countenance of Harris will show to every spiritual-minded person who sees him, that the wrath of God is upon him. . . . Source: Wayne Gunnell, "Martin Harris," p. 55.
Upon the failure of his British Mission, Martin Harris withdrew from the ranks of Strang and joined William E. McLellin, formerly one of the Twelve Apostles and who had been excommunicated from the Church in 1838. On January 23, 1847, a small group under the leadership of McLellin and Harris proceeded to organize a church. "It was moved by McLellin and seconded by Martin Harris that this following take upon them the name of `The Church of Christ,' and wear it henceforth shorn of all appendages or alterations, which motion was carried." Soon after the organization was effected, McLellin communicated with the Whitmer brothers who had remained in Missouri, and in September of 1847, he visited them.
Orson Hyde, "Notices," MS 8 (15 Nov 1846):128.
The question is did Martin Harris leave and preach against the Church in Great Britain? The following from Brigham Young:
"When the new presidency of the Church was chosen, Martin felt greatly disappointed that he was not called to leadership, but Martin Harris never denied the faith, never affiliated with any other sect or denomination, but when the Church came west, Martin Harris remained behind. It is true that Martin Harris did not apostatize; he was never tried for his fellowship; he was never excommunicated."
(March 1926):468-72. William Harrison Homer, "The Passing of Martin Harris," The Improvement Era 29
This would agree with what Martin Harris states of the situation:
To H. Emerson, dear sir: -- Your second letter, dated December 1870, came duly to hand. I am truly glad to see a spirit of inquiry manifested therein. I reply by a borrowed hand, as my sight has failed me too much to write myself. Your questions: Question 1, "Did you go to England to lecture against 'Mormonism?'"
Answer. I answer emphatically, No, I did not; -- no man ever heard me in any way deny the truth of the Book of Mormon, the administration of the angel that showed me the plates; nor the organization of the Church of Jesus Christ of Latter-day Saints, under the administration of Joseph Smith, Junior, the prophet whom the Lord raised up for that purpose, in these the latter days, that he may show forth his power and glory. The Lord has shown me these things by his Spirit — by the administration of holy angels — and confirmed the same with signs following, step by step, as the work has progressed, for the space of fifty.
Martin Harris to H. B. Emerson, cit. The True Latter-day Saints' Herald 22 (15 Oct 1875):630.