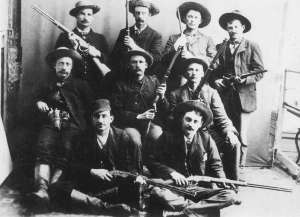 Brigham Young is noted for sending out a rescue party to bring in the handcart companies stranded on the Wyoming plains. Brigham Young is not the only individual to do this, in fact, this same situation happened four years earlier. What were the circumstances and who sent out the rescue party?
A)
John Taylor and the rescuing of the sugar beet equipment
B)
Heber C. Kimball and the rescuing of stranded missionaries on the Mormon Trail
C)
Porter Rockwell and the rescuing of a scouting party sent into the Cache Valley
D)
Willard Richards and the rescuing of a group of Saints taken hostage at Fort Bridger by the U.S. army
While passing up the Missouri River there was a gentleman who came to our room and said that he had learned there were Mormons on the boat. Brother Smith spoke: "Yes, we are Mormons. . . ." The gentleman said, "Where are you going?" "To Far West, sir," was the reply. The man then remarked, "I am sorry to see so respectable a looking company journeying to that place." Brother Smith said, "Why so?" He replied, "Because you will be driven from there before six months." "By whom?" "By the Missourians, gentlemen," said he. My father spoke and said, "Are there not human beings in that country as well as others?" He said, "Gentlemen, I presume you are not aware of the gentleman you are talking to." The reply was, "A Missourian, I presume." The gentleman again spoke, "Yes, gentlemen, I am Colonel Wilson of Jackson County. I was one of the principal actors in driving the Mormons from that county and expect to be soon engaged in driving them from Caldwell County."
He advised us to stop in some other place, for if we went to Far West we were surely to be butchered. We told him we were no better than our brethren and if they died, we were willing to die with them. "Gentlemen," he said, "You appear to be very determined in your minds. Mormonism must and shall be put down." He read to us a letter which he had just received form Newell, which consisted of a bundle of falsehoods concerning our people in Kirtland. "Thrice as false, Joe's career must and shall be stopped.": He then started for the door. I then remarked, "If you will stop a moment or two, I will tell you the way it can be done, for there is but one way of accomplishing it." "What is that, Sir?" he said. I answered, "Dethrone the Almighty and Joes' career is ended and never until then." He left us very abruptly.
Autobiography of Anson Call, Typescript, HBLL; htpp://www.boap.org/