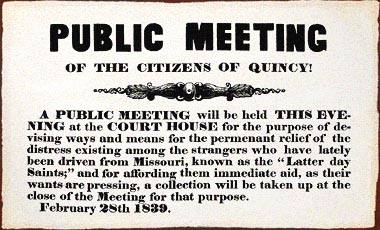 I wasn't all bad, in fact, the Saints did have its sympathizers in the press. The Quincy (Illinois) Argus, in a March 16, 1839 article titled, FACTS RELATIVE TO THE EXPULSION OF THE MORMONS
FROM THE STATE OF MISSOURI
states what should happen to the State of Missouri for its deplorable treatment of the Saints?
a.
Give all property back to the Church
b.
Have its star removed from the Union
c.
Give full payment for the Saints losses
d.
Have the Governor exterminated from the state
Captain Allen allowed the enlisted men to choose their officers with his approval. The enlisted men voted unanimously that Brigham Young nominate the officers for the men.
Golder, Frank, The March of the Mormon Battalion (New York: The Century Company, 1928), 123-124.