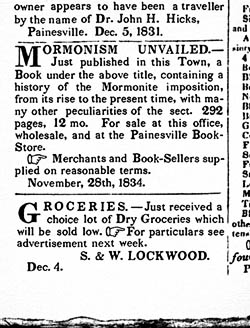 Okay, so the publisher missed the spelling error, it just happened to be in the title of the book, however, this was the title of the first anti-Mormon book written about the Saints during the Kirtland years of the Church. E. D. Howe wrote the book, but who was one of the major contributors, providing numerous affidavits disparaging the Smith family?
d.
Doctor Philastus Hurlbut
The following is in reference to President Ezra Taft Benson:
Ezra's Church service included being a stake president in Boise, Idaho, and then the first stake president in the nation's capital, for which he would be called to the Quorum of the Twelve Apostles.
Arnold K. Garr, Donald Q. Cannon, and Richard O. Cowan, Encyclopedia of Latter-day Saint History (Salt Lake City: Deseret Book Company, 2000), 94.