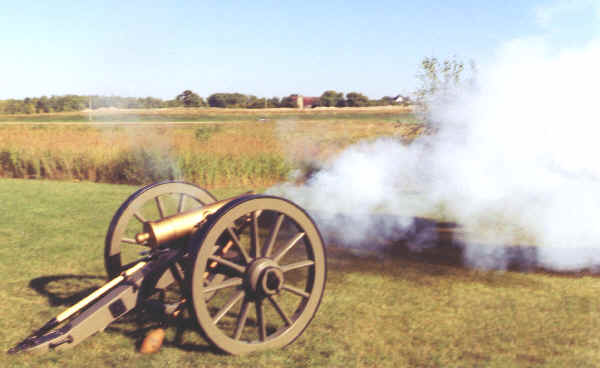 After the Mormon Battalion was released, some of them decided to head back to Utah with two cannons that had been used during their campaign. One evening it was decided that they needed to fire off one of the cannons to scare what away?
Even though the Mormon Battalion was formed to fight against Mexico, it's interesting to note who it was they were called to bear arms. The following from the journal of Zadoc Kapp Judd:
While here five pounds of good fat beef was given for each man's daily rations, but all this did not stop hunger until we got some bread to go with it. After laying here for a long time, eating nothing but fresh beef, we were suddenly called by General [Stephen W.] Kearny to march to Pueblo, Los Angeles. This forced march of four days was very severe on us. We were called to defend and assist General Kearny against [John C.] Fremont and his company who were our enemies or mobocrats right from Missouri. We never saw the enemy but we were marched to the outside of town and camped in our tents on the bank of a nice stream of water. In a few days we were moved to the bench which overlooked the town. Here we were required to build a place of defence by throwing up a bank of earth and making a ditch wide and deep enough so a horseman could not easily ride over it, but the job was not completed by us.