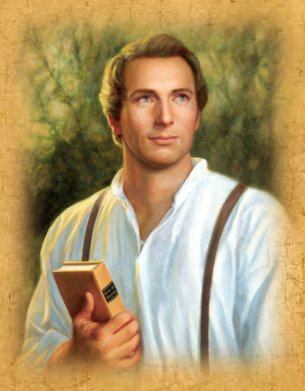 Throughout the life of the Church, many skeptics have scoffed at the words of Moroni stating that this prophecy did not come out until after Joseph and the Book of Mormon became famous. These skeptics are mistaken. When did this prophecy first appear in print?
b.
1835 in the Messenger and Advocate
c.
1832 in the Washington Post
d.
1842 in the Nauvoo Neighbor
Four days after [Joseph] Smith's arrival at Mount Pleasant [Canada], Freeman A. Nickerson and family, Lydia Bailey, and others were baptized, a branch was organized, and Freeman was ordained an elder and appointed branch president.
Soon thereafter at another fireside meeting, Moses Nickerson, brother of Freeman A., said he "would be so glad if someone who has been baptized could receive the gift of tongues as the ancient Saints did, and speak to us." Joseph Smith is reported to have then said, "If one of you will arise up and open your mouth it shall be filled, and you shall speak in tongues." It is reported that Lydia Bailey then rose up and spoke in tongues. Joseph Smith said of this meeting that "the spirit was given in great power to some and peace to others. May God carry on His work in this place till all shall know him." Concerning the occasion of speaking in tongues, Joseph Smith's remarks were brief. He said, "one of the sisters received the gift of tongues, which made the Saints rejoice exceedingly. May God increase the gifts among them for his Son's sake." Joseph Smith also observed that "great excitement prevailed in every place we have visited (in Canada). The result we leave in the hand of the Lord."
A History of the Mormon Church in Canada
(Lethbridge, Alberta: The Lethbridge Herald Co., 1968), 5.