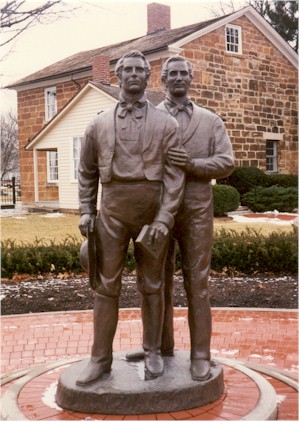 The day prior to the martyrdom of Joseph and Hyrum, what were they busy doing?
a.
Consulting with their lawyers
c.
Reading the scriptures
d.
Preaching to the guards
Prophecies concerning the future of Canada are a vital part of the folklore of the Mormon group. Charles O. Card cites an instance of his prophetic announcement regarding Canada. In his journal for July 14, 1889, Card Says: We gathered in fast meeting at ten a.m. where the brethren and sisters met in asking for rain to moisten the soil as we have only had two or three showers for two months and much of our crops and gardens are dried or parched, also the grass. After the brethren and sisters had testified for a time, Elder John W. Taylor arose and spoke and bore a powerful testimony, stating that he had beheld the Savior. I predicted that this would become a fruitful land and that in time it would be a haven of rest for those of our people who desired to serve the Lord.
Lowry Nelson, The Mormon Village (Salt Lake City: University of Utah Press, 1952), 264-265.