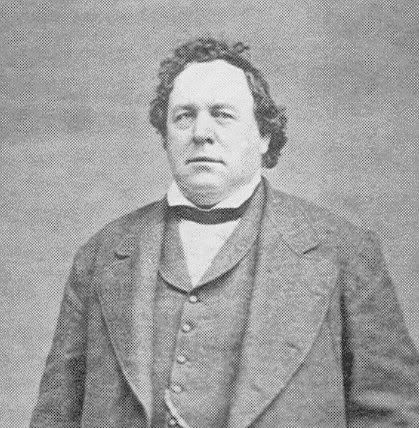 George A. Smith
For what pupose did George A. Smith place on his temple robes?
a.
To plead that the Saints might be rescued from the crickets
b.
To pray for his son, John Henry Smith, who was in trouble
c.
To ask that he might be the next prophet
d.
To pray for protection during the Johnston army episode
From the life of Charles Sperry: Our bread stuff ran very short, and I, with Daniel Miller and others, spent most of the summer hunting for a living. We found lots of game, and we raised some wheat and corn that year. In the summer quite a number of us went with wagons and crossed the Weber River into Echo canyon. Among the number was my dear wife's sister, Elizey Snow, Sister Hanes, Father Joseph Miller (my wife's father), Daniel Miller, Israel Hoyt, and myself. We killed many antelope, and the sisters gathered berries We lived on nuts and berries for we had no bread.
Israel Hoyt and I came into Salt Lake just after the harvest. When we rode into the fort gates, we saw a man winnowing some wheat on a wagon cover. We stopped, got off our horses, and felt the wheat. We let it run through our fingers, and we tasted it. I felt so thankful to see wheat that had been raised in the valley that big tears ran down my cheeks. Our folks had threshed some, and we got about a bushel and a half, had it ground into graham, and started back.
We found the folks all well, and there was great rejoicing in camp to think we had brought back some flour (or graham) from wheat that had been grown in the valley. The sisters got a cloth and sifted some graham and made some pie crust. The pies were made out of sarvesberries [sic] and currants. We baked some bread and had a joyful time that night. We had music and dancing. Sister Louisa danced and felt full of joy. We stayed a few days longer then returned home.
Chronicles of Courage,
Lesson Committee (Salt Lake City: Talon Printing, 1997), 8: 61.