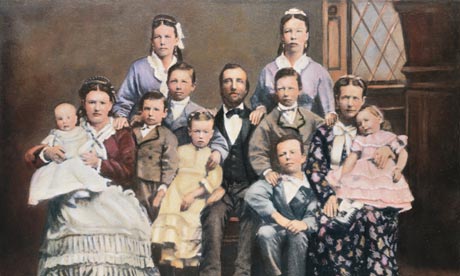 How many plural families were living in Utah at the time of the manifesto in 1890?
C. The mail was not given to the driver of the Young Express in Independence, Missouri
Brigham Young held that the handcart scheme had not failed; it had worked remarkably well, and cheaply, as long as it was planned to get emigrants over the mountains by the end of September. One way to expedite affairs and lessen handcart loads was obviously to provide well-stocked way stations. Why not build a series of settlements along the trail? They would be established about every fifty miles. Each settlement would be laid out over a square mile with ample room for vegetables and other crops to supply travelers. Fresh animals would be available for hauling, repair shops with adequate tools and spare parts would be on hand. Everything would be done to comfort and speed emigrants. This, it will be recalled, was parallel to the plan adopted for the great migration from Nauvoo, first to Winter Quarters and then across the plains.
Coupled with this was a larger plan. A central need of the Mormons was for a better freight and mail service to the East. It was believed also that a well-run express company would attract overland passengers to California, and not least in the Mormon idea was that such a service would facilitate visits from editors, preachers, and politicians who, out of a fund of misinformation, were stirring anti-Mormon sentiments. And understanding and reliable information was an acute need.
One of the first inklings that such might be the fact came in Independence, Missouri, early in July 1857. The Brigham Young Express Company, the YX Company, had been in operation a few months but already more than $100,000 was being spent on establishment of relay stations and dozens of families were moving from Utah to man them. A typical station, by July, had a complement of seventy-five men of various talents, a corral with almost one hundred horses and mules, and dwellings for forty to fifty families. It had a storehouse of several tons of flour, adequate hay, and a garden of fifteen or more acres all in crop. Some stations boasted sawmills, one even had a brickyard.
The key to the success of the whole venture, however, was the contract to carry the United States mail, and on July 1 the postmaster in Independence refused to hand over the mail sacks to the waiting YX wagon. Frantic inquiries disclosed the fact that the contract had actually been canceled in Washington on the tenth of June, and that at the same time United States troops had been ordered to take over affairs in Utah. This news, confirmed in bits and pieces, was rushed to Salt Lake City and the messengers arrived on July 23.
They found Brigham Young and several thousand Mormons up in Big Cotton wood Canyon celebrating the tenth anniversary of their arrival in the Great Basin. Brigham Young had pitched a tent and was inside conferring with friends when the messengers rode in.
It was a gala day and four brass bands vied in supplying music, while the people played at games, joined in hymns, and feasted at a true pioneer picnic, food of a quantity and variety to astonish, if not assault, modern-day stomachs. They sought a private word with Brother Brigham and when he knew that his great dream of a regular and effective express line was denied, and that 2500 armed soldiers of the United States were moving against his people, he still had the courage to bottle up the news. The celebration went on, while inside the tent grave decisions were in the making.
Robert Mullen, The Latter-day Saints: The Mormons Yesterday and Today (New York: Doubleday, 1966), 144-148.