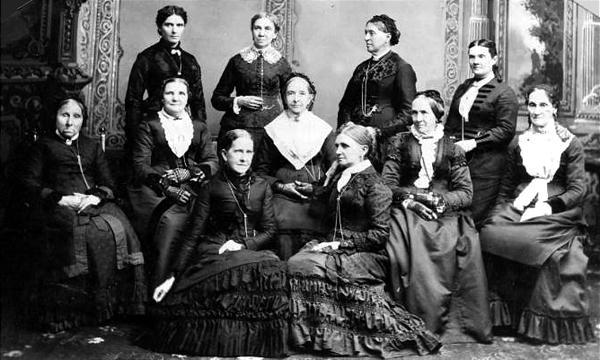 http://aspiringmormonwomen.org/wp-content/uploads/2013/07/suffragettes.jpg


In a letter to friends, Elizabeth Cummings, wife of the first non-member Governor of the Territory of Utah, had much good to say about the Saints. How she described the Mormon women's lives is interesting. What did she state?
a.
Servants to their husbands
b.
Servants to their religion
The following is a letter written by Elizabeth Cumming, wife of the first non-member Governor of Utah, Alfred Cumming: 8 June—We were ready late this morn. A gentleman from Salt Lake City arrived about nine-o-clk, and begged us not to cross the next mountain, but go round by a Canon road, which would round its foot. He left and we left and hour after. We did not see any road but the one over the next mountain—so we took that, I mended shoes and gloves and frock, which my adventures of the day before had caused to look somewhat like the clothes of the Ute Indians—but I could get no others—and hoped that we should get into the city quietly. Though as Alfred had "conquered a peace" a few days before, and had made friends, positive friends of thorough going enemies, I thought there might be a reception—a small one, I knew—for the city was to be abandoned by its inhabitants, until after the army had passed through. This had been agreed upon—but I was not prepared for the death like stillness which existed. A large, beautiful city, the houses all separate—each with its garden—wide streets, with a pebbly stream running on each side—city capable of containing twenty thousand inhabitants—as level as Augusta, Georgia—houses mostly about two stories high, built of adobes, which are like bricks in shape and size, but a grey stone colour instead of red—the gardens full of flowers and vegetables and promise of fruit-but the doors of all houses closed—not a window to be seen—only boards instead—not a carriage or wagon or mule or house or man to be seen. Mountains all around us, looking in the clear atmosphere, but a few feet from us—snow on the tops, green below—and the rushing of the water on each side the only sound. The valley city covers a level area of several miles—and one wondered when one should wake from a dream—or tried to look away from the pictured place. It did not seem real—but you could not look away. The mountains shut you in all around. The gorge through which we approached was no longer visible.
By and bye, Dr. Forney (who had preceded us) came up to my carriage, which was in advance:--he got in, and told Dundie to drive to Staines's house which had been left all ready for us. It was at this house that Col Kane and Alfred had remained when here before, I wish I had a picture of it for you—for it is very pretty. It stands about 130 feet back from the street—flowers etc. in front—peach and other small trees on each side of the house and extending to the street—a large garden behind and on each side. The house built like an English cottage—a Piazza in front, with flat open work pillars, for vines—and a piazza above the first, with heavy carved work all around its ornamented windows &c &c. I went into the large parlour. There was a really magnificent and monstrous piano—London make—and new eight octaves—sent for my use by Brigham Young—and other furniture, carpets &c. sent by other church dignitaries. Then in a china closet, near a large dining room, were cups and saucers and other table furniture, tablecloths, everything had been thought of, for me to use, so that I need not be obliged to unpack, till matters were further settled. Mr. Staines's wives were at Provo, and were to continue there. He may rent us his house, is ready to do so if he does not burn it—but if there is any trouble when the army enters, the whole city is to be burned. The houses are now all emptied but this and an eating house—a little one at the other extremity of the city.
In the aftn several of the magnates of the church called. They had (about twenty of the leading men) come in from Provo City and gone by the Canon road to meet us and escort us to our home—but we had taken the other road and so missed them. They were full of politeness, and with one of them, in especial, I was very much pleased—Wm Kimball, Heber Kimball's eldest son. Genl West and Col Ferguson—then Mr. Cumming and another apostle, called__________. Nearly all those of rank in the church have been missionaries in various parts of Europe—Paris, London, Stockholm, Copenhagen, are their frequent places of visiting, and their manners are polished and the conversation of these gentlemen is very varied and interesting—my favorite visitor was Wm Kimball, as they call him, (he has many brothers). His face is full of character and feeling—his air reserved, but very thoughtful—about thirty years old apparently. The others were generally agreeable. The next calls were from two gentlemen, appointed by Brigham Young to confer with Alfred. Brigham and his counsellors will come to the City from Provo to-morrow. B. Y. says that he and Gov. Cumming have settled matters, and seems to think it superfluous to see the Commissioners—but the gentlemen comms bring a proclamation and pardon from the President, and it is thought better there should be a conference with them—also, the time and manner of the entrance of the army is to be settled.
Chronicles of Courage,
Lesson Committee (Salt Lake City: Talon Printing, 1996) Vol. 7, 392-393.