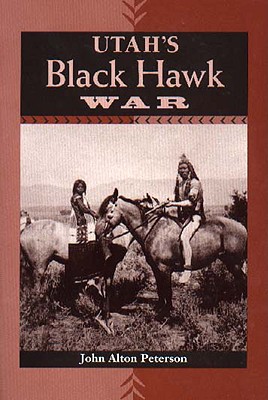 http://www3.alibris-static.com/utahs-black-hawk-war/isbn/9780874805086_l.jpg
According to the journal of John MacDonald, he and 12 other men were sent by Brigham Young with what to end the Blackhawk War?
Tuesday, April 20th—This morning I arose at 4:30 a. m. and took my horses out to feed and then commenced getting breakfast at 6:30. We made a first–rate breakfast of our wild fowls. At 7:30 we started, it being clear weather but very high winds from the southwest. We traveled about six miles and crossed a small stream called Shell creek, about two miles from the Platte river, then went on about four miles and stopped to feed, which made ten miles this forenoon. Three deer ran past our camp within a half mile. Brothers Porter and Brown ran them with their horses but could not get within gunshot of them. J. Higby, L. Johnson and S. Markham and some others started a half hour ahead this morning, with the boat and seine and three wagons with them, to fish. President Young and H. C. Kimball went ahead this afternoon to pick out a camping place. About 4:30 p. m. we arrived at the spot, after traveling ten miles. It is a beautiful place near the banks of the river.
We took our horses across a small branch of the river, where there was plenty of cottonwood for them, and then put our oxen and cows inside of the circle. Those who went fishing returned with a large quantity of fish that they caught in a small lake one mile above where we are encamped. I cooked one for supper, a large buffalo fish. President Young came into our wagon and ate supper with Father (Heber C.) Kimball. This evening the wind blows fresh from the northwest. Father Kimball sits close by me writing a letter to his companion. It is about 10 p. m.; Dr. Richards had just come to our wagon to inquire for Brother Markham. They thought, as the Pawnees were encamped only eight miles from us, it was necessary to have a patrol guard out tonight.
Wednesday, April 21st.—It is cloudy weather and has the appearance of rain, with wind from the northeast. At 7 a. m. the bugle sounded for the ox teams to start, and at 7:30 we started. We met five or six Pawnee Indians. We traveled about eight miles and came in sight of the Pawnee village. Two of the chiefs and a number of the Indians came to our camp. Father Kimball gave them some tobacco and salt. President Young gave them some powder and lead and other things. They manifest dissatisfaction because they did not receive more presents, and told us we must go back. We paid no attention them. At 2 p. m. we continued our journey and traveled ten miles. About twenty minutes after we started we had a severe thunderstorm and rain fell in torrents, which lasted about thirty minutes, and it blew a gale all the afternoon from the northwest. At 5 p. m. we encamped near the Loop Fork, which is a large stream that empties into the Platte. About sundown the bugle sounded for all the brethren to come together. Colonel Markham called off 100 men to stand guard, 50 the first part of the night and 50 the latter part. Porter Rockwell took charge of ten men as Picket guard. I stood guard until 10 pm m. It was a bitter cold night.
Major Howard Egan, Pioneering the West (Howard Egan Estate: Richmond, Utah, 1917) 26-27.