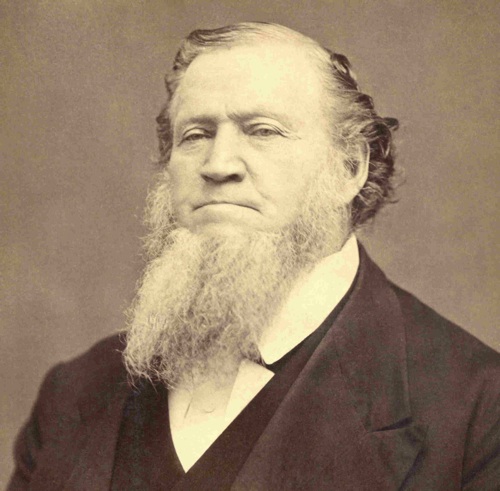 Brigham Young
http://hilobrow.com/wp-content/uploads/2009/09/Brigham-Young-cabinet-card-500.jpg
What was Brigham Young sent to the Utah Penitentiary for in 1871?
a.
A young non-Mormon officer
From the life of Lucy Walker Kimball: One of Zion's faithful Temple workers, was born April 30, 1826, at Peacham, Caledonia county, Vermont, daughter of John Walker and Lydia Homes. She was baptized by Elder Abraham Palmer, at Ogdensburgh, N.Y., while in her ninth year. In 1838 she removed with her parents and the Ogdensburgh branch of the Church to Missouri, passing through Kirtland, Ohio, which had just been evacuated by most of the Saints. Before crossing the line into Caldwell County, Mo., the little company of Saints from Ogdensburgh, traveling in seven wagons, was surrounded by a mob, consisting of about forty men with painted faces, who searched the wagons thoroughly, took away all the arms and ammunition. Which they could find, and ordered some of the women and children out into the snow, among whom was Lucy's mother, a frail and delicate woman. All this happened on a cold and unpleasant day, early in the morning. The company then continued the journey until they reached a point within five miles of Haun's Mill, where they formed a camp. Brother Walker then proceeded to the mill to counsel with Pres. Joseph Young and some other brethren who were stopping there temporarily. This was on Oct. 30, 1838, the memorable day on which the massacre took place. During the shooting Bro. Walker was wounded in the arm, and subsequently suffered considerable from the effects thereof. Immediately after the massacre a young man came running across the prairie to the little camp of immigrants and told them what had happened at the mill, adding that the mob would soon also attack them. Upon hearing this, some of the women picked up their babes and tried to wade through the deep snow, towards the neighboring woods, but after suffering almost beyond description from cold and exposure they were obliged to return to the wagons and trust in God for protection. The next morning early a young officer, with a pleasant, open face, came riding into the camp and told the travelers that the mob was coming down to destroy them, but if they would consent to follow him, he would lead them to a place of safety. At first they were not inclined to believe him, but finally concluded to follow him and risk the consequences. They young man, who appeared not to be in sympathy with the mob, then led the little company on a back trail to a secluded place, where they scattered and found temporary shelter among the settlers. In a couple of weeks, Bro. Walker, who had been reported killed, rejoined his family, and the following spring most of the little party continued their journey until they reached Quincy, Ill.
Andrew Jenson, L.D.S Biographical Encyclopedia (Salt Lake City: Publishers Press, 1901) Vol. 1, 808-809.