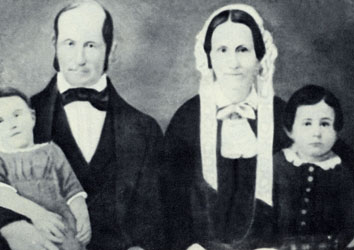 Heber C. and Vilate Kimball family
http://www.ldsanswers.org/wp-content/uploads/2016/12/Kimball-Family.jpg
In 1831 Heber C. and Vilate Kimball joined the Baptist church. How soon did they meet the Mormon missionaries after they joined the Baptist?
California's allure tested faith and church loyalties. Like Samuel Brannan, as Amasa Lyman and Charles C. Rich reported to Brigham Young in 1850, quite a few Brooklyn emigrants soon fell away from the church. Some devout battalion veterans also found life so much more attractive in the Golden State than in Utah Territory that they ignored repeated appeals to gather in Zion. As time passed, the ruling church authorities increasingly came to mistrust all California Saints. From the perspective of the Lion House in Salt Lake, the gold fields of the Sierra Nevada sheltered too many Mormon mavericks and doctrinal dissenters, not to mention avowed apostates. In Brigham Young's view, so he made clear at an early date, it was impossible to unite California's Babylon with Utah's Zion.
Gold Rush Saints,
Kenneth N. Owens, (University of Oklahoma Press, Norman, Okalhoma: 2005), 25-26.