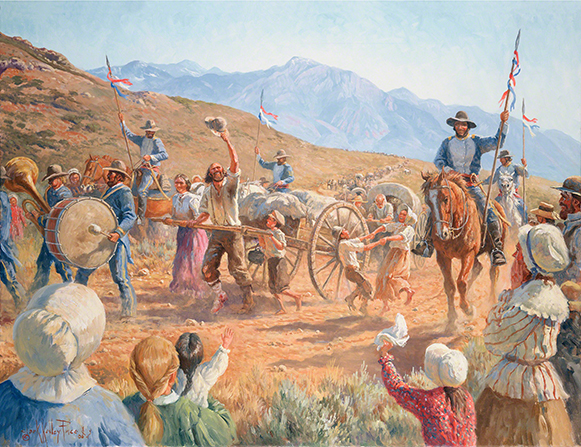 https://media.ldscdn.org/images/media-library/gospel-art/church-history/handcarts-arrive-salt-lake-price-276505-gallery.jpg
When the handcart company that James Gardner and other young men in the company exited the mouth of Emigration Canyon in 1856, what did they do?
a.
Raced their handcarts to Salt Lake City
d.
Started hugging everyone in the company
From the first 1837 mission to England:

Christmas Day 1837 was celebrated in a special way by the British Saints. Early that morning, five people were baptized; then, at 10 A.M., Elders Kimball, Hyde, and Fielding conducted the first general conference of the Church in England. More than three hundred Saints, including those from Preston and representatives from branches throughout Lancashire, gathered in the Cock Pit. The elders blessed a hundred children, confirmed fourteen new members of the Church, ordained ten men to the office of priest, and seven, including William Clayton, to the office of teacher. It was also at that conference that the guide to health known as the "Word of Wisdom" was first publicly taught in England.
Men With a Mission 1837-1841,
James B. Allen et. al, (Deseret Book, Salt Lake City, Utah: 1992), 47.