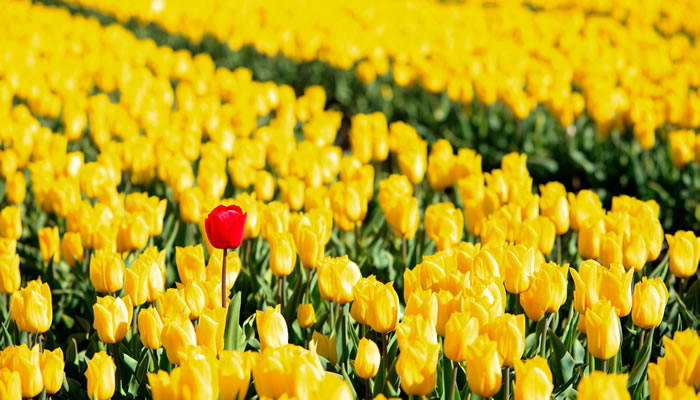 http://evisionmedia.ca/media/seo-standing-out-in-tulip-field-crowd.jpg
It is stated that this individual stuck out in a crowd, that those who did not know him previously immediately knew who it was without being told who it was. Who was this individual?
June, 1847, Rocky Ridge, Pioneer Company, William Clayton:

At 1:20 we proceeded again, our road running on the river banks two miles then turning to the northwest and ascending a succession of hills one after another for three miles farther, winding around and over hill and valley in some places over a good hard road, and in other places over rocks and broken fragments of rock, making it severe on wagons and requiring great care in teamsters. About a half mile north of the road at the top of this ridge there is a heavy bank of snow which some of the brethren went to visit and amused themselves by snowballing each other. Brother Carrington say there is every appearance of a rich lead mine in that place, having examined the place minutely.
June 1847, Rocky Ridge, Pioneer Company, Thomas Bullock: Leave this place at 1:30, continuing through the very narrow vale. . .

We ascended a long steep hill, finding many daisies which was a pleasant sight for me. Brother Wordsworth brought me a ball of snow which I ate; quite a treat for the Anniversary of my Wedding day.
Stewart E. Glazier and Robert S. Clark, Journey of the Trail (Salt Lake City: The Church of Jesus Christ of Latter-day Saints, 1997), 153.