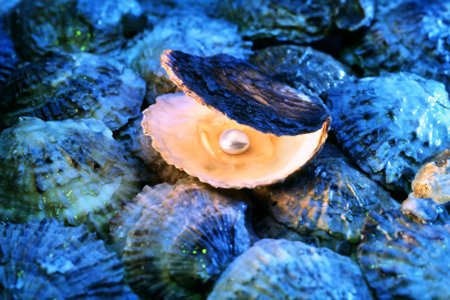 http://www.hziegler.com/hza-resized-images/articles/pearl-divers-of-qatar/open-pearl_450x300.jpg
What was 75-year old Tahuare Hutihuti, Tahitian pearl diver, saving for, for thirty years?
a.
His flight to the New Zealand Temple
b.
His tithing to give to an Elder of the Church
c.
The Tahitian building fund to build the first chapel
d.
His flight to the Salt Lake Temple
From the life of Frederick A. Mitchell, Hawaiian mission president: A remarkable experience in the mining town of Placerville, California, illustrates the zealous and dogmatic nature of Mitchell's personality. Arriving in Placerville in July 1856, Mitchell was aghast at what he observed, and the missionaries "felt the influence of Hell." It seemed to him that every other house was a grog and gambling establishment. Passing through town with Elder William B. France, Mitchell commented on how easy it would be for God to destroy the town by fire and wondered aloud how long the Lord would allow such wickedness to be tolerated. Such were the feelings of all the brethren, he wrote. The following day Mitchell and Robert Rose had just reentered Placerville to purchase stagecoach tickets for the trip to Sacramento, when the cry of "fire" was raised. Rose wanted to help the townspeople rescue their belongings from the burning buildings, most of which were frame and highly vulnerable to fire. But Mitchell overruled Rose: "I felt that it was the judgment of the Almighty and that it would be wrong for us to give one helping hand to any Whore or Whore master." Rose apparently was persuaded, for the two men climbed a hill north of town to watch the Lord wreak his vengeance. That evening Mitchell recorded: "I had the satisfaction of seeing those persons whom the evening before had wallowed in abomination and filth, bereaved of home and property."
Voyages of Faith-Explorations in Mormon Pacific History
, Grant Underwood, (Brigham Young University Press, Provo, Utah: 2000), 62-63.