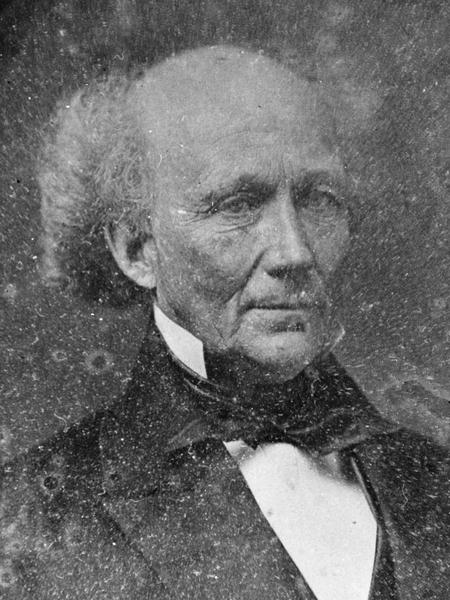 John Bernhisel
http://www.josephsmithpapers.org/bc-jsp/content/jsp/images/content/library/images/450x600/A1-Page-634b-Bernhisel-John-M-USHS-No-11689.jpg
John Bernhisel was the Church's representative in Washington D.C. in 1851. Brother Bernhisel, even though not using the exact words, in a sense had to tell who to "cut out" their disparaging remarks about the government?
a.
John Taylor and William Smith
b.
Brigham Young and Wilford Woodruff
c.
Daniel Wells and Porter Rockwell
d.
Brigham Young and Daniel Wells
A The Reorganized Church of Jesus Christ of Latter-day Saints
Edmund C. Briggs, a newly ordained apostle, and Alexander McCord arrived in Salt Lake City on August 7, 1863, as the first missionaries from the Church of Jesus Christ of Latter Day Saints (the "Josephites," or the Reorganization") to the members of the Church of Jesus Christ of Latter-day Saints (the "Brighamites"). Although their wagon journey from the Midwest of the United States to Utah must have been grueling, they lost no time setting to their mission and began preaching in the streets of the city. Their message was not particularly new, for the issues of authority and plural marriage had been debated among all the followers of Joseph Smith the Prophet for nearly twenty years. . . .
. . . .By the time Jason W. Briggs arrived in Salt Lake City and began publication of The Messenger in November 1874, the results of missionary efforts had dropped to almost nothing from an average of about 300 "redeemed" members each year. At the same time not all of the members were emigrating from Utah at the first opportunity, and the Church's presence began to take on some stability.
Steven L. Shields, The Early Community of Christ Mission to "Redeem" the Church in Utah, Journal of Mormon History, Fall 2014, 159 & 160.