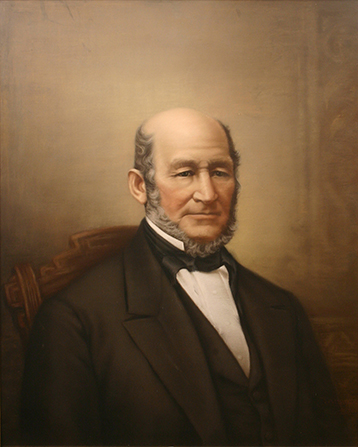 Heber C. Kimball
https://media.ldscdn.org/images/media-library/gospel-art/church-history/heber-c-kimball-portrait-clawson-223357-gallery.jpg
Heber C. Kimball was noted for his prophecies. In fact, Brigham Young once referred to him as his prophet. What did Heber C. Kimball correctly prophesy about John Taylor?
a.
He would serve a mission to England
b.
He would become the President of the Church
c.
He would live in the largest mansion in Salt Lake City
d.
He would be shot a number of times in a jail and live to tell about it
C Got a job at the hat store
From the life of Frances Ann Tatton Bench: Frances Ann was nine years old when her family boarded the ship, "Camillus," which was sailing to America. They arrived in New Orleans on June 7, 1853. Here they received instructions by wagon master, John Brown, to travel up the Mississippi River to Keokuk, Iowa, to be outfitted for their trip west. They did so and arrived in Salt Lake Valley on October 17, 1853. Frances had walked most of the way.
Frances was educated and worked in her father's hat shop as a clerk. While she was working here, a young student was smitten with her beauty and made several trips past the hat shop just to look at her. He finally obtained a job from her father just to meet Frances. Frances and William Bench fell in love and were married in December, 1862. During the next ten years, the young couple lived in Salt Lake and in Manti, Utah.
International Society Daughters of Utah Pioneers, Pioneer Women of Faith and Fortitude, (Publisher Press, 1998), 1:216.