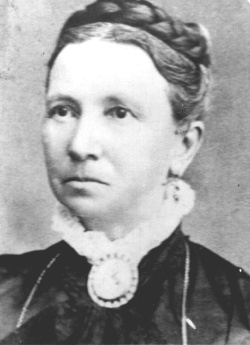 Mary Ann Weston Maughn
http://www.geocities.ws/ksvedin/mary_ann_weston_maughan.jpg
At the time of departure, when Mary Ann Weston Maughn was about to board the ship bound for America and Nauvoo, what was her biggest trial?
a.
Saying goodbye to her husband
b.
Leaving her belongings
A Jewish visitor to Salt Lake in July 1861, Israel Joseph Benjamin, in writing about the Saints and the city stated: "There are five Israelites here. Two of these have become Mormons. [He probably was referring to Alexander Neibaur and either his son-in-law, Morris Rosenbaum, or to Levi Abrams who was known to the Mormons as Abraham the Jew.] The other three are merchants and are doing very well." [The merchants he referred to were likely N. S. Ransohoff, Samuel H. Auerbach, and Samuel Kahn.]
Chronicles of Courage,
Lesson Committee (Salt Lake City: Talon Printing, 1997), 8: 242.