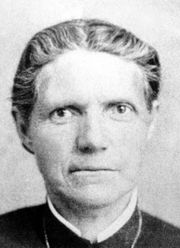 Ellen Pucell Unthank
http://wiki.hanksplace.net/images/thumb/c/cb/Nellie_Unthank.JPG/180px-Nellie_Unthank.JPG
Why did early pioneer Ellen Pucell Unthanks have to walk on her knees throughout her life?
a.
She was crippled at birth
b.
Caused by weather fleeing Johnston's army
c.
Caused by weather while with the Martin Handcart company
d.
Caused by lack of nourishment in her first few years in the valley
D The amount of personal property that had to be left behind
July, 1856, Iowa City, Martin Company, John Jaques Journal: As only a very limited amount of baggage could be taken with the handcarts, during the long stay on the Iowa City camping ground, there was a general lightening of such things as could best be done without. Many things were sold cheaply to residents of that vicinity, and many more things were left on the camping ground for anybody to take or leave at his pleasure. I was grievous to see the heaps of books and other articles thus left in the sun, rain, and dust, representing a respectable amount of money spent therefor in England, but thenceforth, a waste and dead loss to the proper owners.
Stewart E. Glazier and Robert S. Clark, Journey of the Trail (Salt Lake City: The Church of Jesus Christ of Latter-day Saints, 1997), 46.