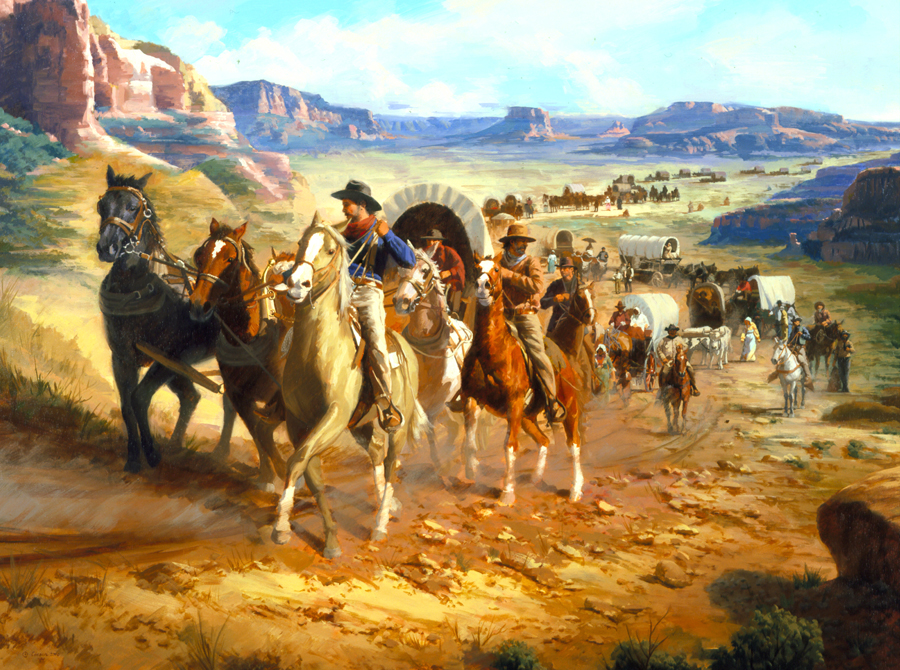 https://www.jimcarsonstudio.com/assets/artwork/orig/The%20Mormon%20Trail.jpg
Many miracles were experienced by those traveling to the Salt Lake Valley. What was one such miracle?
a.
Toddlers having the strength to walk the entire distance
c.
Wagon's never breaking down
d.
Untamed cattle pulling wagons with no problems
The day after the funeral (John Taylor), the United States District Attorney assigned to Utah brought a lawsuit against the Church to enforce the escheatment provisions of the Edmunds-Tucker Act. Frank H. Dyer was appointed receiver to seize the General Tithing Office, the Gardo House, the Historian's Office, and other Church properties.
Upon the loss of their ownership rights, Mormons were forced to pay the federal government high rental fees to retain the use of their own property. Rent for the Gardo House was initially set at $75 per month but later increased to $450 a month. . . .
From 1887 to 1891, The Church of Jesus Christ of Latter-day Saints paid the government more than $28,000 for the use of its own property. During that period, Church leaders had hoped that the Gardo House would be judicially declared Church property, exempt from escheatment under the laws of the land. When that did not happen President Woodruff decided that it would be better for the Church to move than to continue paying the exorbitant rental fee. Upon learning of their intent to leave the mansion, the receiver immediately began looking for a new tenant; and in January of 1892, the Gardo House was leased to the Keeley Institute for much less than the Church had been forced to pay.
International Society Daughters of Utah Pioneers, Museum Memories (Talon Printing: Salt Lake City, 2011), 3: 22-23, 26.